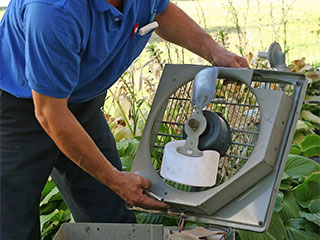 Fresh and clean air is a necessity, not a privilege. Achieving high indoor air quality begins with making sure the air inside your home departs from a clean and fully operational HVAC unit. When this and other ventilation components of your home are filled with dust, pet dander, dead skin cells, and similar harmful pollutants you're essentially bringing the wellbeing of your family in question. We specialize in cleaning and servicing of your HVAC system, including maintenance, troubleshooting and air quality testing.
Getting Rid of the Contaminants
By hand brushing the affected areas and employing our high-powered vacuum, we'll see to it that the spread of any existing contamination is prevented before eliminating them for good. Our typical procedure entails manual labor along with continuous negative pressure which extracts the pollutants and ensures no airborne particles return back to the living areas once the HVAC unit is switched on again. Essentially, we will suck out the dirt right out of your furnace and ducts before disposing of it in a safe manner.
We'll Improve Your Home's Energy Efficiency
A big part of our calls come from homeowners who are frustrated with how high their energy bills have become and are starting to put blame on their HVAC system's efficiency. In most cases, they are right. An accumulated build-up in your ductworks and furnace can cause a lot more worries besides the air you breathe. A clogged-up air flow also means your unit has a harder job pumping the air through. In other words, it is using up more energy to do the same job. We will restore your system to its former glory and make sure it's operating at its peak efficiency.
Get in Touch Today
If it's been a long time since you've thought about your ventilation system, don't wait any longer. Our team of professionals has been proudly serving San Jose residents for over a decade and know what it takes for a job well-done. From HVAC unit cleaning, repair, maintenance, and troubleshooting to filter replacement and air quality testing, we've got you covered.