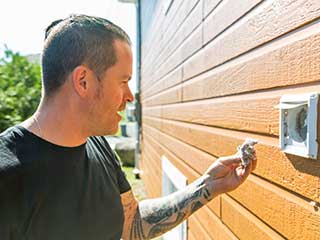 Homeowners should be prudent when taking care of their homes and their families. This is especially true when it comes to fire safety. House fires can be caused by practically any source in your home that produces heat. That means most of your electrical appliances can become potentially very dangerous. The best way to avoid this danger is to be aware of its many common causes and make any necessary adjustments to protect yourself.
Dryer Lint Makes For Perfect Kindling
Your dryer generates heat to dry off wet clothes. To facilitate this, there is an exhaust vent at the back of the machine that is designed to convey moisture and heat outside. On the inside of your dryer, just before the vent, there's a lint filter that's meant to keep lint out of the vent. Sadly, this filter is not perfect and lint eventually does make its way inside. This results in a tight compartment that gradually becomes packed with combustible kindling just waiting for the right blend of heat and oxygen to ignite. That's why a clogged up vent is very dangerous and should be clean regularly.
Everything Has a Limited Lifespan
Although with professional cleaning your dryer vent will last much longer than it would otherwise, there will eventually come a time when replacement is due. It's best not to delay when this proves to be the necessary course of action to take. You'll want your dryer vent to be in the best condition possible, and if it starts showing signs of wear and tear, no matter how often it gets cleaned, it will still pose some fire risk to your home.
Don't Turn a Blind Eye
The danger of lint buildup in dryer vents is all too real. There is no reason to ignore the warnings. The numbers of people and houses that have suffered from unexpected fires are far too large. That is the reality of these hidden dangers. "Hidden" is the operative word here. Your vent's condition, as well as the lint that gets accumulated inside it, are all out of sight. This often results in neglect, as people forget to check their vents and allow more and more lint to get into its crevices.
Seek Professional Assistance
Dryer vent cleaning should become a routine priority of yours. It's the best way to ensure your risk of a fire is reduced to the absolute minimum. Every so often, however, complete replacement is required, to make sure this important component doesn't suffer too much wear and tear damage to remain safe to use. Contact our experts at Air Duct Cleaning San Jose to benefit from our professional dryer vent cleaning and replacement services.